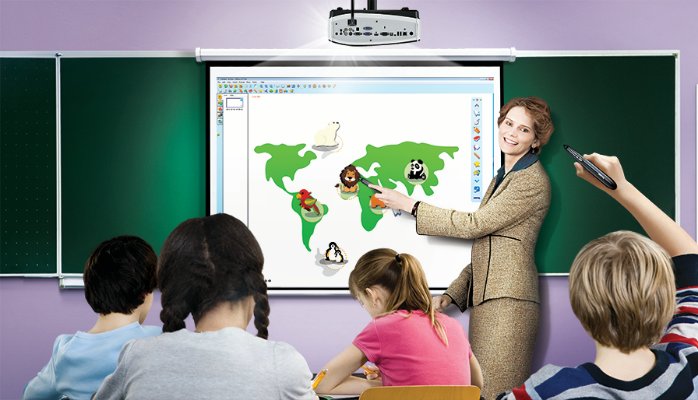 In order to operate an Interactive Whiteboard in a school or office, it is important to properly connect a laptop or desktop computer. At Kidigital, we design, manufacture and assemble AV wallplates to be used for just this purpose.
In their simplest form, many Interactive Whiteboards require at least one video connection (usually VGA or HDMI) and also a USB connection. Audio Visual wallplates such as WP506 (1x VGA female to female connection and 1x USB 2.0 Type-B female to female connection) allow a laptop or desktop computer to be quickly and easily connected to the Interactive Whiteboard.
Newer Interactive Whiteboards incorporate a HDMI connection as well as a VGA (HD15) connection. Many AV Installers will run both of these cables in the wall in order to give the teacher or operator a choice of connection. Together with an optional 3.5mm Stereo Audio Connection, the AV wallplate may look like this.

Connecting a wallplate to an Interactive Whiteboard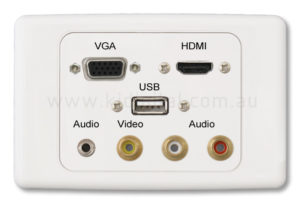 Once AV connections have been decided, the next step is to work out how these cables will be terminated. This is often dictated by the length of cables that are required.
HDMI for HDMI is simply a matter of running a good quality HDMI male to male cable and plugging this in to the female HDMI connection on the rear of the wallplate.
For VGA, pre-made male VGA leads can be plugged in to the female VGA connection on the rear of the wallplate. If raw HD15 cable is installed in the wall, then the VGA connection on the rear of the wallplate needs to be terminated with a screw terminal VGA connection.
USB cabling requirements will change depending on the length of cable required. For cable lengths less than 5m, no USB extenders are required. For lengths over 5m then at least one USB Active Extender is required. It is important to consider the length of USB cable that will possibly be used by the operator of the Whiteboard.
Change the labels on the wallplate
It is also possible to change the default labels that ship with our wallplates to give the connections better meaning and make it easier for the teacher or operator to connect their computer to the Interactive Whiteboard.
We can print the text 'Whiteboard' instead of 'USB' and add a logo onto the wallplate for repeat business, service or support.
https://kidigital.com.au/wp-content/uploads/2018/01/interactive-whiteboard2.jpg
400
698
admin
https://kidigital.com.au/wp-content/uploads/2018/01/Untitled-2-300x75.png
admin
2018-01-24 04:19:13
2018-01-28 23:44:41
Interactive Whiteboard Wallplates